ELLIS Summer School on Large-Scale AI for Research and Industry - Modena Unit
ellis
18 September 2023 - 22 September 2023
Summer School
ELLIS Unit Modena
18 September 2023 - 22 September 2023
Save the date! From 18 to 22 September 2023, the ELLIS Unit in Modena, Italy, will organise a five-day summer school on large-scale AI for research and industry.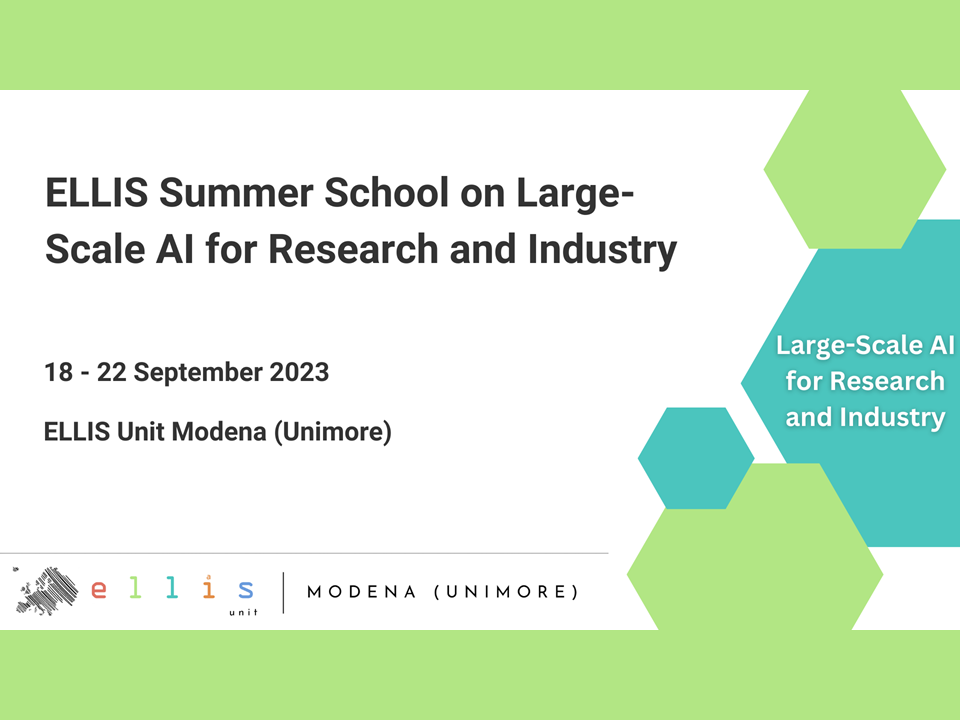 The event will offer networking and training opportunities for graduate students and researchers, giving them the chance to exchange with leading experts in the field of machine learning. The school will feature a line-up of top-level speakers on Large-Scale AI, as well as lectures and tutorials from NVIDIA on massive and distributed training and working groups. The students will be given access to the Leonardo Supercomputer, containing 13824 GPUs availables for the EU community (Leonardo is currently ranked 4 in the Top-500).
A preliminary list of confirmed speakers includes:
Tal Hassner (Meta AI)
Federico Tombari (Google Zurich)
Bjoern Schuller (Imperial College London)
Cees Snoek (Qualcomm QUVA Lab and University of Amsterdam)
Laura Leal-Taixé (NVIDIA and TU Munich)
Students of the School will have the opportunity to:
attend high-profile lectures and tutorials from top-level scientists
attend lab lectures from both academia and industry
discuss their work through poster and tooling sessions
develop projects on the parallel GPU facilities of the Leonardo Supercomputer hosted by CINECA
have fun! :)
The school takes place in Modena and is organised by the Modena ELLIS Unit, comprising researchers from the University of Modena and Reggio Emilia (UNIMORE), the University of Florence, and CINECA - the Italian Supercomputing Centre.
The detailed information about the program can be found on the Modena Unit website (www.ellis.unimore.it) together with the registration details.

The early application round closes on May 25, 2023.
More about the application process: www.ellis.unimore.it/summer-school/registration
The summer school in Modena was selected following an ELLIS call for the organization of summer/winter schools in the 2023 PhD & Postdoc Program cycle. Read more about it here.