Members of the ELLIS community meet for the first 'unconference' in Spain
ellis
09 February 2023
News
Exchanges on the future of AI, plenty of cross-program discussions and many ideas for future collaborations: Those were the outcomes of the first ELLIS Unconference which took place on La Palma (Spain) in January 2023. European machine learning researchers from the ELLIS community came together for an intensive in-person exchange on current machine learning (ML) challenges and scientific advances.

The unconference was the first of its kind organized by ELLIS. Unlike many science conferences, an 'unconference' is a participant-driven event. The concept: ELLIS organized the venue and other logistics, the conference attendees were invited to create the agenda themselves by suggesting topics and times for workshops, keynote talks and discussion sessions. Over the course of two weeks, around 40 ELLIS Fellows and members from 20 different research institutions across Europe as well as some of their PhD students developed a dense program for fruitful in-depth exchanges on the latest cutting-edge machine learning research, often lasting into the late evenings.



Discussions across different ELLIS programs
The conference participants touched base on a wide variety of subjects - some of which are the focus of ELLIS research programs. The agenda included sessions on topics such as: machine learning in health and biology, causal digital twins, resilient algorithm design, self-supervised learning of deep visual representations, causal discovery and deep learning to improve convection in climate models, digital twins and fairness, evaluating vaccine allocation strategies using simulation-assisted causal modelling, natural language processing and psychotherapy, causality for dataflow graphs in software, ML for quantum technologies, ML for molecules and materials, as well as issues of peer review and how AI can address them.
Important in-person meeting opportunity
The interactive conference format with its flexible agenda allowed the participants to have extended discussi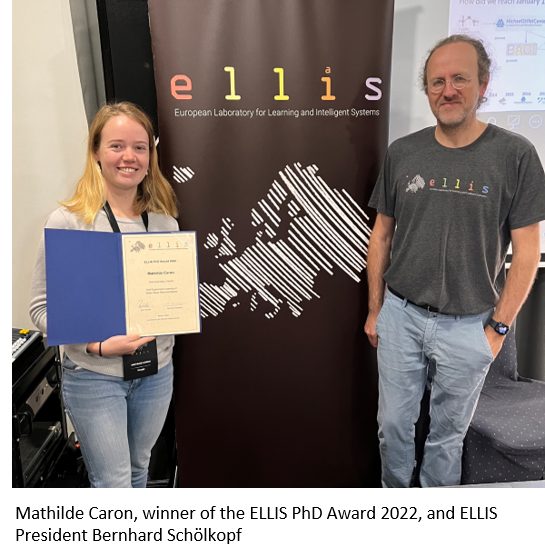 ons without the time constraints often found at bigger conferences. In particular, it helped facilitate the information flow between ELLIS programs, offering an in-person meeting opportunity for experts usually spread across Europe. Moreover, it was an occasion for the ELLIS community to further discuss the ELISE Strategic Research Agenda. The event was also the venue for the announcement of the winners of the ELLIS PhD Award 2022: Mathilde Caron from France and Taco Cohen from the Netherlands received the prize for their outstanding achievements during their dissertation phases.
"The ELLIS Unconference was a great opportunity to discuss topics along an agenda self-organized by the participants. The program was single-track and we had representatives from across most ELLIS research programs and units. This fostered the kind of discussion that the scale of today's ML/AI conferences makes impossible, and new European collaborations will result from this. Travel habits have changed, and many feel that to justify physical travel to an event, it should be worthwhile and offer the kind of interaction that virtual events cannot support. Such in-person events are essential for the exchange in our European network, and we are looking forward to repeating this format in the future", says ELLIS President Bernhard Schölkopf.

More information

Learn more about all ELLIS research programs here.

Contact ELLIS here.

Social media

Follow ELLIS on Twitter, LinkedIn, Mastodon and Facebook.