ELLIS PhD Program: More than 1,900 interested candidates in 2022
ellis
06 December 2022
News
The ELLIS PhD Program is gaining popularity: This year's call for applications attracted more than 1,900 interested candidates from 81 countries around the world. Following the ongoing selection process, the most talented young researchers will be offered the chance to advance their scientific career as an ELLIS PhD student co-supervised at two labs in a European AI network of excellence.
The ELLIS PhD Program is entering its third year and has once again seen an increase in interest from early-career researchers around the globe. Following the 2022 call, more than 1,900 candidates expressed interest in the program via the central application portal - with one out of four being female students. This is the highest number of registrations since the start of the program in 2020.
The joint European call not only spotlights European machine learning labs on the international scene, but also offers students a convenient overview of PhD opportunities within the vibrant ELLIS network. As such, it is becoming a one-stop shop for students who want to pursue a PhD in machine learning-driven fields and are keen on working at the cutting edge of science and technology.
"We are extremely proud to see that our PhD Program is popular among young researchers all over the world. Our objective is to increase Europe's competitiveness in modern AI by attracting and retaining the best talent in Europe. To achieve that, we designed a competitive PhD program to connect exceptional talent from across the globe to world-leading researchers and institutions in Europe. We are now reviewing all applications in detail and are looking forward to welcoming a new cohort of outstanding PhD students to our network soon", says Andreas Geiger, Chair of the ELLIS PhD Committee and Professor of Computer Science at the University of Tübingen.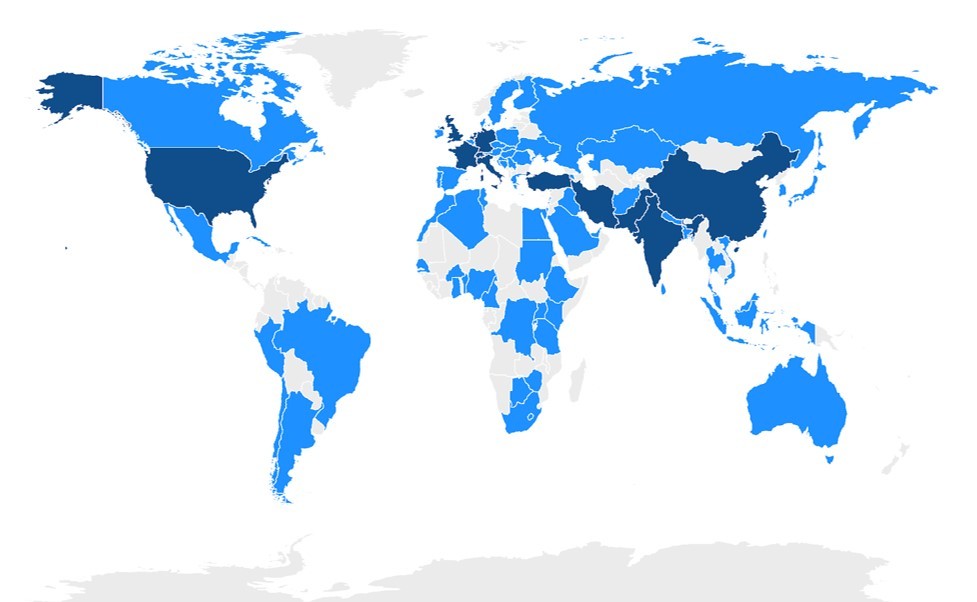 Fig. 1. A PhD Program with global reach. This graph shows the country of residence (in blue) of interested candidates in the 2022 selection round (countries in dark blue each account for more than 1% of all registrations).

What's next?
This year, more than 170 ELLIS faculty all over Europe and Israel have registered as advisors and are recruiting students via the call. Currently, all applications are being assessed thoroughly in a multi-stage review process which involves a pool of more than 350 machine learning researchers. In a later stage, ELLIS advisors will select outstanding candidates in their area of expertise for one-on-one interviews. Shortlisted candidates who accept an offer from one of the participating faculty will be hired at the partner institution and will join the program as an ELLIS PhD student in 2023. This will give them the opportunity to conduct cutting-edge research in the field of modern AI, co-supervised by some of the most renowned European scientists in this field.

About the ELLIS PhD Program
The ELLIS PhD Program is a key pillar of the ELLIS initiative whose goal is to foster and educate the best talent in machine learning and related research areas by pairing outstanding students with leading academic and industrial researchers in Europe. The program also offers a variety of networking and training activities, including summer schools and workshops. Each PhD student is co-supervised by one ELLIS fellow/scholar or unit faculty and one ELLIS fellow/scholar, unit faculty or member based in different European countries, and conducts an exchange of at least six months with the international advisor during their degree. Research fields ELLIS PhD students have access to range from computer vision, health and robotics to machine learning theory, privacy, natural language processing, climate sciences and more.

The ELLIS PhD Program is supported by the European Union's Horizon 2020 research and innovation programme under ELISE.
More information
Learn more about the ELLIS PhD Program here: https://ellis.eu/phd-postdoc
What it's like to be an ELLIS PhD student: Watch these short video testimonials recorded by some of our students across Europe.
Connect with us on Twitter, LinkedIn and Facebook.
For more information or questions, please contact phd@ellis.eu.