ELLIS research programs: Two new proposals accepted
ellis
10 January 2023
News
ELLIS Programs
Press release
The range of ELLIS research programs is expanding further: The proposals 'Machine Learning for Molecule Discovery' and 'Learning for Graphics and Vision' have been accepted as new ELLIS programs. They will push the scientific boundaries of their respective areas by fostering exchange and research collaborations among outstanding researchers in Europe.

ELLIS Program 'Machine Learning for Molecule Discovery'

Discovering new molecules with desired functions or activities is crucial for human well-being by providing new medicines, securing the world's food supply via agrochemicals, or enabling a sustainable energy conversion and storage to counter or mitigate climate change. However, the discovery of new molecules or molecular materials that are optimized for a particular purpos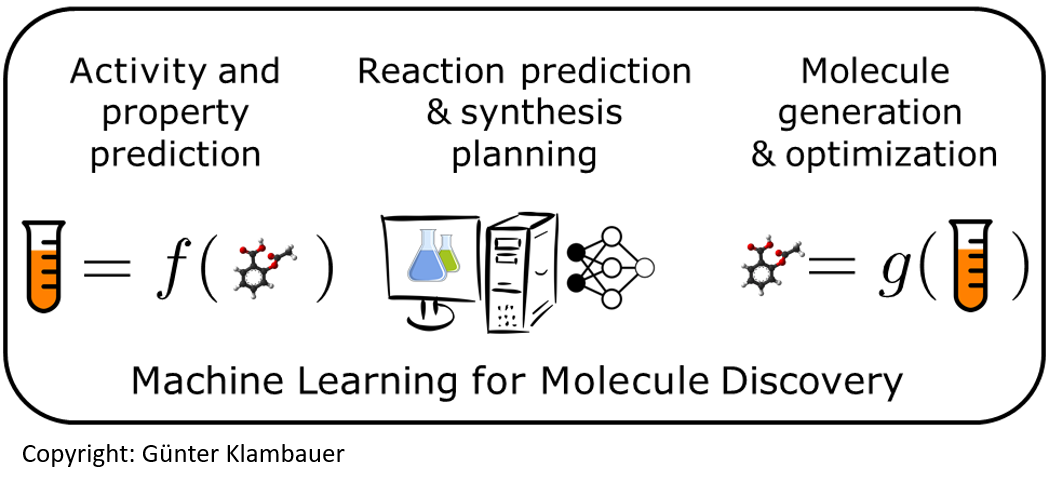 e can often take up to a decade and is highly cost-intensive. Machine-learning (ML) methods can accelerate molecular discovery, which is of considerable importance generally, but especially in light of the COVID-19 crisis and future pandemics. To reach this goal of speeding up the discovery of new functional molecules, the new ELLIS program 'Machine Learning for Molecule Discovery' aims to establish a dialogue between domain experts and ML researchers to ensure that ML positively impacts real world scenarios.
The program's objectives are to advance computational molecular science by improving molecular representations, molecular modeling, property prediction, generative modeling for molecules and molecular optimization, and chemical synthesis through ML methods. The program intends to connect researchers from ELLIS units such as Cambridge, Linz, and Berlin, as well as from academia, pharmaceutical and technology companies. The direct exchange among experts and open discussions about research results are a crucial aspect for advancing science.
"Molecules are in the center of almost all natural sciences, from chemistry and material science over physics to molecular biology. Similarly, almost all sub-fields of machine learning yielded applications for molecules, for example: Geometric Deep Learning finds molecules a rich field for equi- and invariances, Deep Learning architectures predict molecular properties or generate molecules, and deep reinforcement learning helps with planning chemical synthesis routes. By advancing machine learning, we will speed up molecule discovery, and ELLIS has the key role in this to connect machine learning researchers with molecular sciences and industry. First steps in this direction have been made through the ELLIS ML4Molecules workshops in 2021 and 2022 with together over 1300 registered participants", says Günter Klambauer, ELLIS Scholar, one of the Coordinators of this program and Associate Professor for Artificial Intelligence in Life Sciences at Johannes Kepler University Linz. The program proposal was also coordinated by Jose Miguel Hernandez Lobato (University Cambridge, ELLIS unit Cambridge) and Nadine Schneider (Novartis).

ELLIS Program 'Learning for Graphics and Vision'
The fields of computer graphics and 3D computer vision have been revolutionized by machine learning. Computer graphics sub-areas such as rendering, geometric modeling, computer animation or computational photography and videography have witnessed tremendous algorithmic advancements by new deep learning concepts which enable new ways for visual content creation in general. The same holds true for 3D computer vision sub-areas such as 3D reconstruction, 3D human analysis, intrinsic image decomposition and inverse rendering where new deep learning based methods enabled significant improvements over the state of the art. However, deep learning has not replaced the fundamental principles of classical computer graphics and 3D vision. Rather, the field has seen a rise of research which systematically integrates explicit 3D world representations, image formation models, and classical rendering techniques with deep learning frameworks.
The members of the new ELLIS program 'Learning for Graphics and Vision' see a big opportunity to integrate classical computer graphics, geometry processing and 3D vision principles more tightly within deep learning frameworks. The mission of this program is to connect researchers in the fields of machine learning, computer graphics, 3D computer vision, and geometry processing to discuss and investigate how machine learning can benefit from computer graphics, geometry processing and 3D vision, as well as to investigate the explosion of new possibilities that machine learning enables for graphics and vision.
"We are super excited to bring leading European researchers in the fields of vision, graphics and learning together. We will establish a collaborative network and organize joint workshops to investigate how deep learning can benefit from classical principles of 3D vision and graphics. Likewise, we will investigate how deep learning can boost the creative process of graphics pipelines ", highlights Gerard Pons-Moll, ELLIS Scholar, one of the Program Coordinators and Professor of Computer Science at the University of Tübingen.
"The new program will enable us to bring together world leading experts who explore how deep learning and graphics and vision come together to enable new possibilities and new methods at the intersection of the fields", says Christian Theobalt, ELLIS Fellow, one of the Program Coordinators and Director at the Max-Planck-Institute for Informatics in Saarbrücken.

Members of the new research programs
The new ELLIS research programs advance science by connecting outstanding scientists across Europe. Following an ongoing evaluation process, a complete and official list of all program members and their institutions will be announced soon.


More information
Learn more about all ELLIS research programs here.
Contact ELLIS here.

For media
For interview requests or more information, please contact pr@ellis.eu or visit ellis.eu/formedia.

Social media
ELLIS Programs
Press release