ELLIS-LAION Workshop on Foundation Models
ellis
13 July 2023 - 14 July 2023
Workshop
Max Planck Institute for Intelligent Systems - Tübingen
13 July 2023 - 14 July 2023
The workshop will take place at the Max Planck Institute for Intelligent Systems on 13 - 14 July 2023, supported by ELLIS funding from the state of Baden-Württemberg. It is co-hosted by ELLIS, LAION, and MPI-IS.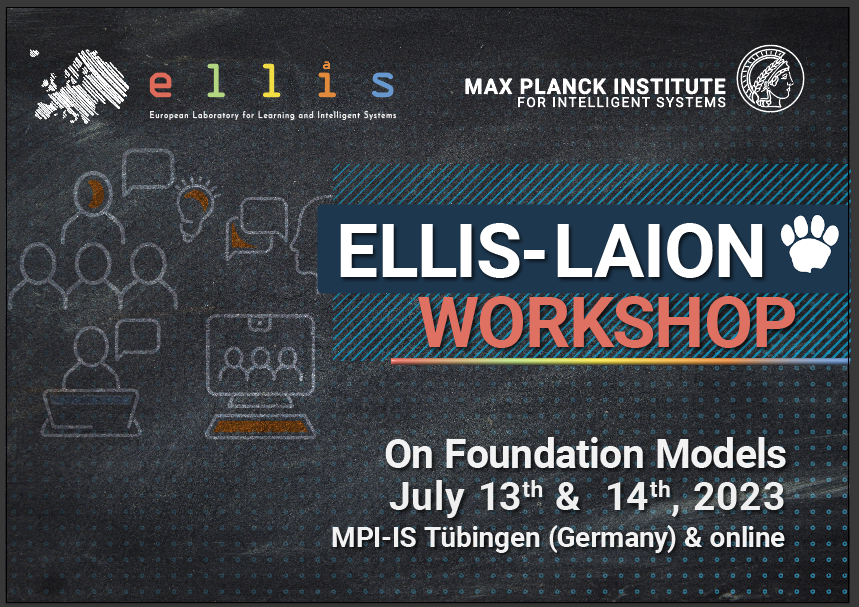 Our goal is to discuss recent developments in foundation models in an informal setting.Since space is limited, we plan to live stream the talks.
With questions, feel free to reach out to Jenia Jitsev, Bernhard Schölkopf, or Christoph Schuhmann.
Agenda
- All times in Central European Summer Time (CEST)
- Location: Lecture Hall N0.002, MPI-IS Tübingen
- You can access the slides of the presentations by clicking on the underlined titles
Thursday, July 13th
| | | | |
| --- | --- | --- | --- |
| Time | Topic | Speaker | Format |
| 9:00 - 09:15 | Introduction to the workshop | Jenia Jitsev & Bernhard Schölkopf | In person |
| 9:15 - 9:30 | | Jenia Jitsev | In person |
| 9:30 - 9:45 | Foundation multi-modal datasets | Christoph Schuhmann | In person |
| 9:45 - 10:15 | From Paella to Würstchen: Recipes for Efficient and Simple Text to Image Generation | Dominic Rampas, Pablo Pernias | In person |
| 10:15 - 10:30 | Discussion | | |
| 10:30 - 11:00 | Coffee break | | |
| 11:00 - 11:15 | How bias in LLM disrupts the Law: how to tackle discrimination in generative AI | Sandra Wachter | Online |
| 11:15 - 11:45 | Data Rivers? Re-balancing the data ecosystem that makes generative AI possible | Sylvie Delacroix | In person |
| 11:45 - 11:50 | Discussion | | |
| 11:50 - 12:05 | Overview of efforts in Japan on foundation models | Rio Yokota | Online |
| 12:05 - 12:20 | | Lucia Cipolina Kun | In person |
| 12:20 - 12:35 | Beating Equal-Odds for Guided Video Synthesis with Foundation Models | Patrick Esser | In person |
| 12:35 - 12:45 | Discussion | | |
| 12:45 - 12:55 | Orthogonal Adaptation of Foundation Models | Weiyang Liu | In person |
| 12:55 - 13:10 | Evaluating and improving the German language capabilities of open-source LLMs | Björn Plüster | In person |
| 13:10 - 13:15 | Discussion | | |
| 13:15 - 14:00 | Lunch | | |
| 14:00 - 15:00 | In-person Discussion / working groups | | |
| 15:00 - 15:15 | | Aran Komatzusaki | Online |
| 15:15 - 15:25 | | Zhijing Jin / Ojasv Kamal | Online |
| 15:25 - 15:55 | Building multi lingual large open language models in EU Horizons HLPT | Sampo Pyysalo | Online |
| 15:55 - 16:10 | Discussion | | |
| 16:10 - 16:20 | CLadder: Assessing Causal Reasoning in Language Models | Luigi Gresele / Yuen Chen | In person |
| 16:20 - 16:30 | Questioning the Survey Responses of LLMs | Ricardo Dominguez-Olmedo | In person |
| 16:30 - 17:00 | Coffee break | | |
| 17:00 - 17:15 | | Hilde Kühne | Online |
| 17:15 - 17:45 | Scaling up language-vision learning with pre-trained components | Mehdi Cherti | In person |
| 17:45 - 17:55 | Discussion | | |
| 17:55 - 18:25 | DataComp: In search of the next generation of multimodal datasets | Ludwig Schmidt | In person |
| 18:25 - 18:35 | LAION-Medical - towards a holistic approach to large-scale multimodal medical dataset generation | Robert Kaczmarczyk | In person |
| 18:35 - 18:45 | Discussion | | |
| 18:45 - 19:45 | Dinner | | |
| 19:45 - 20:30 | Panel: "Towards competitive Large AI in Europe" | Jenia Jitsev, Bernhard Schölkopf, Cecile Huet, Giambattista Parascandolo, Ludwig Schmidt, Sepp Hochreiter, Jess Montgomery | In person/online |
Friday, July 14th
Time

Topic

Speaker

Format

10:00 – 11:00

Why This is (Not) the End of Research in Generative AI:
Stable Diffusion & the Revolution in Visual Synthesis

Björn Ommer

In person
Livestream:

The following Zoom link was used to livestream the workshop: https://eu02web.zoom.us/j/64214595458?pwd=ZzgvL1p0dmdKRXRhOUtSSU5tVWRYQT09